I've not blogged for a couple of weeks, but I have been busy with knitting and attempts at general yarn-related housekeeping. I finished off the baby cardigan and hat just in time to deliver it before coming home (I put the buttons on while I sat chatting to baby R's parents, so mum could choose the buttons she liked best – she went for the retro brown ones – which means I don't have an FO photo!).
I've also been whipping my WIPs out, and separated them from the stash. The whole lot had kind of got jumbled up together, which really didn't help, oddly enough. That consisted of the christmas stocking for my eldest that managed to fail to make its debut last year (it's okay, she's twenty, she can cope), the Sarah Jane sweater, plus the beginnings of another Isabell Kraemer pattern, half a chunky sock I'd totally forgotten about, and a scarf in Kidsilk Haze (those last three being the projects that constituted the tangled mess in this post). In addition to those there's the proper finishing of the Season 12 scarf, to make it into a 12.5/13 scarf, but that involves chopping and I need to find a Zen moment to even contemplate going there.
The sweater 'only' needed sewing at the underarms and having the ends woven in, so I bit the bullet and got on with that. It took most of one afternoon and the following morning, because whoa –
However, it's now finished, and more importantly – it's wearable!
I'm quite happy with it overall, though were I to do it again, there's a few things I'd do differently (including not losing a fair bit of weight between starting and finishing it). I think it needs to be a 4ply yarn for starters, because for me the detail isn't quite fine enough in DK (I used Drops Karisma). And I think, as the motif is only at the front, that I'd knit it flat. I know some would probably consider that a bit of a nightmare as it involves purling stranded, but I've done it before so I know I can – and I would rather do that than have the problem I've had with this jumper of the ends showing through from the back at either side of the motifs.
Also, I did knit this before finding out about colour dominance, and two handed stranded knitting, which while this has three colours, would have helped immensely.
I wouldn't use a contiguous sleeve either, I'd probably just go for a slightly set in sleeve – raglan wouldn't really look similar to the original, though it'd be much easier. It'd mean a little more work designing but I think the end result would be better fit-wise. All these things mean that I'm not going to bother sharing what I did to make it, as I'm not 100% happy with it, but basically, I just applied the motif to a sweater pattern that I thought would work with it, and changed the sleeves (maybe that was a mistake, and I should've attempted the sleeves from that pattern, because the fit around the shoulders is a little loose). I'd still knit it bottom up though, as that means the stitches aren't upside down (the original, I think, looks to be knit the 'right' way up).
It's a very comfortable sweater, it's ready just when I need it, and so I'm considering that a success – and if/when it falls to bits, I will make another, because I do love the design. It's taken me a long while from start to finish – almost exactly two years, in fact! – though next time I won't spend hours peering at photos like this one –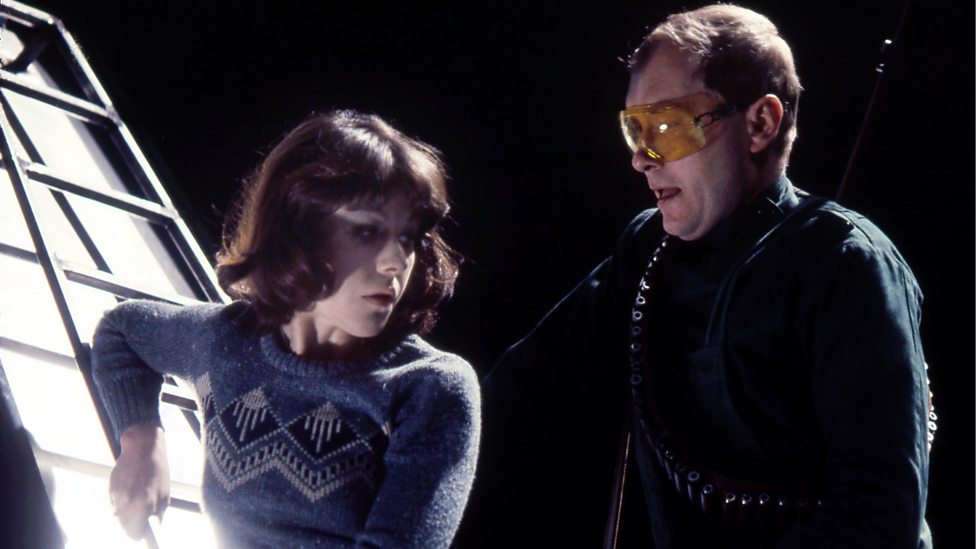 because the chart is actually out there on the internet somewhere, if you look about. (I did also spend a good few hours rewatching GotD, but that's not time wasted as far as I'm concerned.)
And while I love me some stranded knitting, I'm not contemplating knitting this bobby-dazzler from The Monster of Peladon any time soon (it's sort of tempting in a crazy knitter lady kind of way, I'll be honest).
So now my current knitting consists of a pair of socks for my sister, 2.5mm needles, Drops Fabel –
using this Drops pattern –
Though I've obviously done the cuff in off-white, and I'm also thinking I might change the pattern from a deer to something else. My contrast yarn is a mid grey, so last night (after knitting the zigzag border) I was dithering over switching the panel with the deer to white-on-grey, because I like the idea of it being a white hart, plus the diamonds will be like snowflakes. Ish. I think I'll give it a go and see how it turns out because I can always rip it out and start again if I need to. (Let's face it, I'll probably find I have to do that at some point anyway due to the most common mistake I make when doing these charted stranded sock things, namely, starting the next row of the chart when I move to the other side of the sock instead of knitting it twice, and then wondering what the hell is going on.)
Stashbusting is go, anyway. The socks are stash yarn, and the day before yesterday I finished a baby shrug, knit with some of the huge pinkness you can see in that first photo –
It's Sirdar Hayfield Baby Bonus DK, which I bought 'plenty' of to knit an outfit for my niece's new baby at the start of the year (yes, it's acrylic, but that means easy care, and really, no one with a newborn needs to be worrying about drying things flat and all that). Just before we set off home from dad's a week or two ago, I popped round to see them (and take a sling round for her to try a bit of babywearing, which I'm happy to say she was over the moon with). All the knitted stuff she had was now too small, so I promised to make her some new bits and bobs. It's from a Debbie Bliss pattern, and was a really quick knit, which will hopefully fit and keep her cosy while I get on with this pattern –
More Drops, yes, and I won't be knitting it from my stash, but heyho. I do have a bunch of RYC Cashcotton 4ply that would probably work quite well – it's in a pale lemon colour – but it's very fluffy and I don't know if it'd be too tickly (there's angora in there, I think). I knit a cardi for my younger daughter in it a few years ago and she just couldn't wear it, and we ended up giving it to her best friend (who was very happy with it, luckily!), so I don't want a repeat of that.
I'm still looking for patterns for Christmas projects for the pile of Karisma I've got, not to mention the laceweight. I'm going to need some emergency knitting to fall back on to save my eyes from those socks of an evening, I think (and I'm delaying casting on the S18 scarf as long as possible until I've got through the stash a bit more, as I suspect I'll want to keep knitting on that once I get going – there's a rumour that that season is up for a blu-ray release next year, so I could save it for a watchalong KAL – but I digress!). I've started the proper cataloguing of my stash that I was threatening a few posts back, including going through and taking photos of it for my ravelry notebook (to help with finding patterns for it all, or in some cases, dedicating a purpose for it, as I'm still contemplating another shawl pattern and could use some of it for design work). This is the majority of my stash, bar oddments –
(Vaguely organised, increasing in weight from left (laceweight) to right (aran), with 4ply/sock yarn mid-left/centre, giant pile of Drops Karisma mid-right… mostly)
Oddly, I don't think it looks as bad loaded onto the dining table as it feels when it's occupying the boxes and bags I've got scattered here and there around the house, but I'm finding the making up of 'kits' harder than I thought it would be. Deciding on a pattern is one thing, but – particularly with stranded projects – I'm finding it tricky to then complete a colourway without thinking 'ooh, this would be nice if I just had a ball of [insert complementary other colour I don't already own here]', which obviously is adding to stash rather than destashing, and something I'm trying to avoid! My laptop is slowly filling up with photos of balls of yarn, and loading them all on to ravelry is going to be no mean feat. So far I've photographed all the DK, and added about 3 colours to ravelry, so I really need to get on with it.
Piling all that up reminded me of this –
(Not actual footage of me attempting to reduce my stash. Honestly.)
I'm mostly thankful that I don't have to feed the yarn, too.